Recycling
Array Consortium Recycling is simply the process of making of new products from products that has been used and disposed as waste. As a green entrepreneur, your duty here is to get these assumed useless waste products, recycle it into useful products and resell it to the same people who disposed it. Now if only you can catch the vision behind the concept of recycling, you will benefit immensely from a trend that is still in its beginner's phase.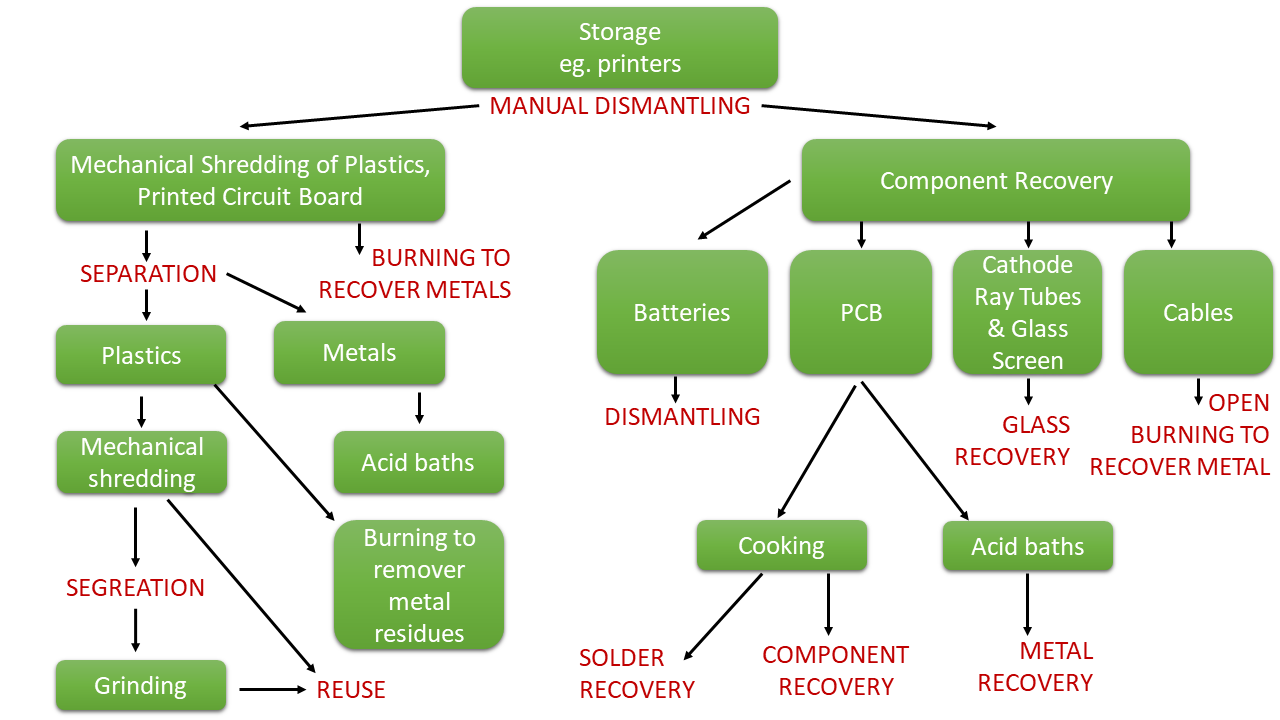 The main process is to collect and store the wastes.
The main process is to collect and store the wastes.
The shredding is done by separation of the plastics and metals and other materials are brunt.
From plastics mechanical shredding are done again and afterwards it is reused.
Some materials cannot be reused after secondary mechanical shredding for that after the shredding the materials are segregated and grinded then it is reused.
After separation the metals are processed with acid baths and the plastics are brunt to recover metals residues.
In the component recovery process the batteries, printed circuit boards, cathode ray tubes, cables are separated and collected.
The batteries are dismantled.
The printed circuit boards are either cooked or it is processed with "acid bath". When the PCB's are cooked there are two recoveries, one is solder recovery and another one is metal recovery from plastics.
The cathode ray and glass screens are processed with "acid bath" and "glass recovery" thus the metals are recovered from plastics.
The cables are open burnt to recover metal.
The initiative of array consortium inquires the venture to manage the end-to-end utilizing the E-waste from every bounds to keep the land, air, and soil free from the environmental hazards by collecting materials which affects by decaying and directly propagating in the elements of the environment. Thus Array Consortium gives the resolution to give the safety to the environment conserving the ecology
At the point when e-waste goes into landfills, it puts our conduits, soil and air in danger in light of the fact that a considerable measure of our shopper hardware, for example, TVs, telephones and PCs contain poisonous materials or unsafe chemicals like mercury, lead, or other substantial metals.  The materials like plastic, steel, aluminum, copper, gold, silver can be renovated and can be used in new equipments.
Array Consortium, Bangladeshi's largest licensed & authorized electronic waste recycler started operations since  2018, is engaged in handling, recycling and reusing of Waste Electrical and Electronic Equipment(WEEE) in friendly way. The initiative is to aim at reducing the accumulation of used and discarded electronic and electrical equipment's, which most end up in landfills or partly recycled in a unhygienic conditions by backyard recyclers and then partly thrown into waste streams damaging the environment.